Oman Air Celebrates Operating Flights to Goa in India
06 April 2015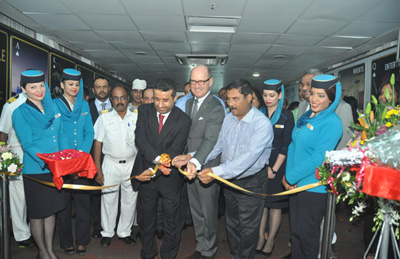 Oman Air, the national carrier of the Sultanate, celebrated at Muscat International Airport today launching flights to Goa, thus increasing the number of its destinations to 49.
The inaugural ceremony was held under the auspices of Dr. Mohammed bin Nasser al-Za'abi, CEO of the Civil Aviation Authority (CAA).
Oman Air will launch four weekly flights (Muscat-Goa-Muscat) using Boeing 800-737 to meet the growing demand for this destination; one of the most popular destination in the world.
Launching Goa destination comes within Oman Air's ambitious program at the current period during which the company fleets will be increased to 50 in the upcoming three years. The expansion will provide passengers with more options and more frequent flights.
Dr. Mohammed bin Nasser al-Za'abi, CEO of the CAA said that the Goa route will help in attracting more European tourists to visit this area.
In a statement to reporters, he added that the route will enhance economic, trade and tourism relations between the Sultanate and India.
In response to a question about facilities provided to passengers to Salalah, Dr. al-Za'abi said that the operation of Salalah new airport will take place before the Khareef season and that the airport will be ready to receive flights operated by other carriers such as Qatari Airways, Air Arabia, India Airline and Oman Air.
On his part, Paul Gregorowitsch, Oman Air's CEO said that Goa route is the 11th route operated by Oman Air to India.
He hoped that the route would help in increasing the number of passengers as it is complementary to the flights coming from UK, France, Germany and Italy.
Rate our content