End of possibilities of direct impact tropical Cyclone (CHAPALA)
02 November 2015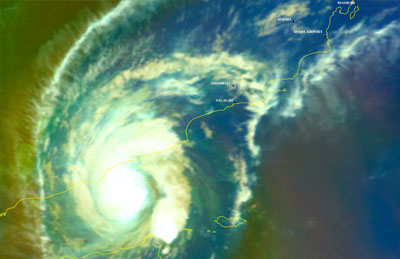 The internal committee for managing the extraordinary weather incident headed by his Excellency Dr. Mohammed bin Nasser Al-Za'aby the Chair executive of Public Authority of Civil Aviation where the committee studied the latest development and analysis of weather charts, therefore the committee announces there is no possibilities of any direct impact over the sultanate from the tropical cyclone passed over Arabian Sea :
The End of possibilities of direct impact tropical Cyclone (CHAPALA)
The analysis of Multi Hazards Early Warning Centre (MHEWC) indicate agreement between local and global numerical weather prediction models continuous movement of Chapala to west toward Republic of Yemen over area between governorates of Hadhramout and Shabwa as Tropical storm during the next 24 hours.
The Multi Hazards Early Warning Centre (MHEWC) still alerting during today and tomorrow the sea state over Dhofar and al-Wusta governorates is rough to very rough with wave height reaching 5 to 7 meters. In addition, continues advection of clouds associated with isolated rain occasionally thundershower.
The Committee is pleased to express its thanks to all concerned governmental and non-governmental that banded together all while the preparation for the effect of exceptional weather situation over the Sultanate and it values the cooperation of citizens and residents in the follow-up to the reports issued by the Multi Hazards Early Warning Centre, making a significant influence in reducing the impact of the risk from the tropical cyclone and thanking Allah of his mercy rain which was given to this generous country asking of God Almighty to preserve Oman and its leader, His Majesty Sultan Qaboos bin Said and every citizen and resident of this nice pace. We ask Almighty Allah to be merciful upon our brothers of the Republic of Yemen makes it as blessing and goodness rain and to protect them from all harm.
Rate our content