Sohar Airport, approximately 10km northwest of Sohar, which mean that passengers can avoid the two-hour long drive from/to Muscat. The airport functions as a new gateway for passenger, cargo and courier traffic in northern Oman, and a domestic and emergency alternative to Muscat International Airport. It adds to an up-to-the-minute multimodal transport network that will stimulate additional economic growth in the Sultanate.
The early operation of the airport was on November 18, 2014. The third package was recently assigned. Currently, the temporary building is equipped to receive international flights, and there are discussions with international airlines to use it to run international flights to some countries such as India, Iran, Doha, and others.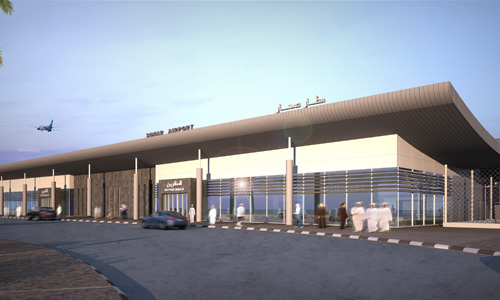 The terminal space in the airport is (5,600) m2. Airport works with terminal building capacity of 500,000 per annum annually. It consists of (4) boarding bridges, and (7) booths to complete the traveling procedures. The runway length is (4) km, and width is (75) meters, and the control tower height is (37) m. Construction works for each airport have been divided into three packages, the first one includes airport road network and utilities. The second package contains construction works for the runway, taxiway, apron, and all other accessories.