The opening of the first phase of the Muscat International Airport was on December 14, 2014, which involve
Northern runway, related passages and the runway infrastructure.
Support systems for the management of air traffic.
Air Traffic Control tower.
The Complex of Meteorology and Air traffic control.
Firefighting and rescue station.
Information Centre.
CAA headquarter building.
The road which link between Sultan Qaboos Street and November 18 the road.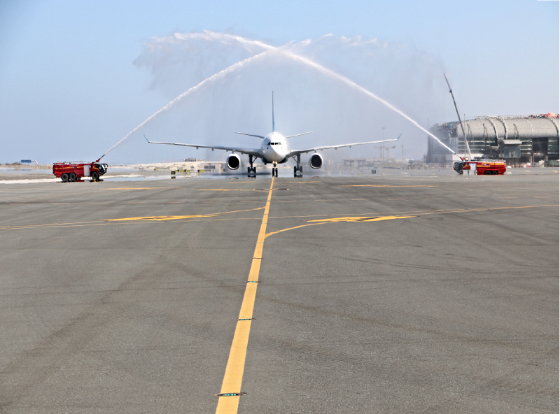 The total area of ​​the work of the third package terminal as follows: the terminal is about 580 thousand m2, including building services, car parking and annex buildings with an area of ​​37 thousand m2.
The airport will have an annual capacity of 12 million passengers in first stage expandable to 48 million passengers annually in latter stages. The building includes at (118) booths to complete the traveling procedures and (82) a table of Immigration and Passports, including benches for VIP. The airport also encompasses (4 stars) hotels that contains (90) room with facilities. The hotels are expandable to 90 other rooms.
The building contains (10) belts lines for baggage handling. The building includes lounges for VIP, first and business class. In addition to that, there are (29) gates linked to 40 bridge to transport passengers to and from the aircraft, and (16) ground gates to transport passengers by bus. number of tethered aircraft positions bridges (29) position and (10) other positions fed by bus, and the number will rise to (30) position in future expansion, and the number of parking lots in the building of more than 7,000 positions.